How To Choose An Anchor Windlass
Views:235 Author:Site Editor Publish Time: 2017-08-25 Origin:Site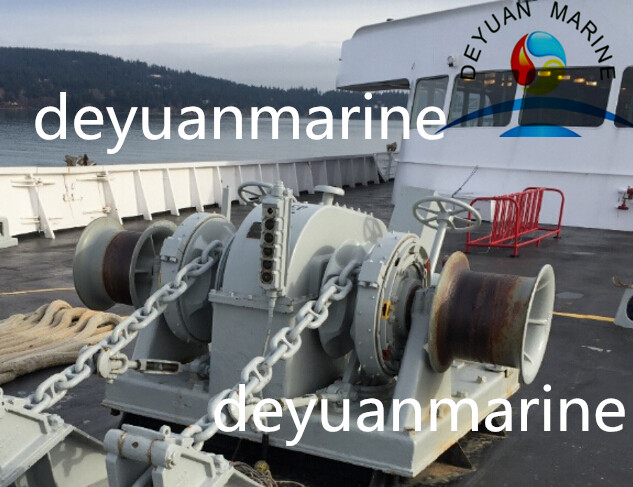 How To Choose An Anchor Windlass
As we all know, anchor windlass is a very important ship machinery to retractable anchor and chain on board. Usually it is driven by electric motor or hydraulic motor. mainly installed on the first deck of ship. An anchor windlass can be single gypsy windlass, double gypsy windlass, can be vertical type also horizontal type windlass, if it combined with mooring drum which can be act as a winch for mooring function, the both end can also mounted with warping end, we have all different anchor windlass which as per standard or customized.
Anchor windlass has two main parts: the wildcat or gypsy and the warping-end. The wildcat is a notched wheel that engages the chain links. The warping-end is for line handling. When the weight of chain and anchor is considerable, the windlass has a stopper to prevent slipping when the wildcat clutch is released.
First of all, let me introduce some glossary of anchor windlass below:
1.Gypsy/wildcat: A chain wheel with gears, which use to accommodate a specified chain size.
2.Vertical Windlass: Originally referred to as a Capstan, the axis of the winch is vertical
3.Capstan head: know as warping drum or warping end
4.Horizontal windlass:Axis of gypsys horizontal
5.Clutch: Free Fall chain
6.Free Fall: Release of the winch clutch mechanism allowing the anchor and rope to run out freely
7.Anchor: specified type and weight anchor for the appointed anchor windlass
8. Chain stopper: prevent slipping when wildcat clutch is released.
Single gypsy anchor windlass:
Single gypsy anchor windlass unit is available for most chain sizes, it can design to be horiztonal type or vertical type, we also offer optional capstan heads and chain stoppers for it. This anchor windlass consist of one gypsy which means can only retractable one anchor, with electric or hydraulic driven type, fully enclosed gearbox, fail saft brake and band brake, jaw clutch and chain stripper, it is a small and sample unit.
Double gypsy anchor windlass:
The double anchor windlass is a horizontal rotating-shaft machine used for raising or lowering two anchors. It may be electric, hydraulic or pneumatic. The twin drums enable one windlass to handle two different chains, lines or cables. They are generally located on the forecastle deck above the chain locker, and are used to raise or lower the two anchor chains. This windlasses are symmetrical, with identical parts on both sides.
Vertical anchor windlass:
The most common type is the vertical windlass, it's just like a vertical capstan, the only different is vertical windlass include one more gypsy.
The vertical axis allows the motor, if electric, to be housed below deck. The vertical windlass needs more fall than the horizontal. 18 inches minimum is recommended for a vertical windlass. Fall is the distance under the deck inside the anchor locker . Fall is needed so the chains gravity helps it to fall to the bottom of the locker. The vertical windlass takes up less deck space than a horizontal windlass, is cheaper than most horizontal models, and has 180 degrees of chain grip.
Since the gypsy does not have gravity on its side vertical windlasses need a chain stripper. If this is not working properly the chain will not drop down into the anchor locker.
Horizontal Windlass
With a horizontal axis windlass you can have two drums or gypsies and use one windlass for two separate anchors. All of Windlass mechanism is install on above deck.
The horizontal windlass needs less fall than the vertical. 12 inches minimum is recommended for a horizontal windlass.
So how to choose a suitable anchor windlass? first consider the type and structure you need, then chain diameter and anchor chain weight must be taken into account, The forecastle beam and the dimensions of the bow bulb also must be taken in to account to ensure smooth handling of twin anchors.