Introduction Of Different Type Of Marine Diesel Engine For Boat
Views:67 Author:Tina Publish Time: 2018-01-05 Origin:Site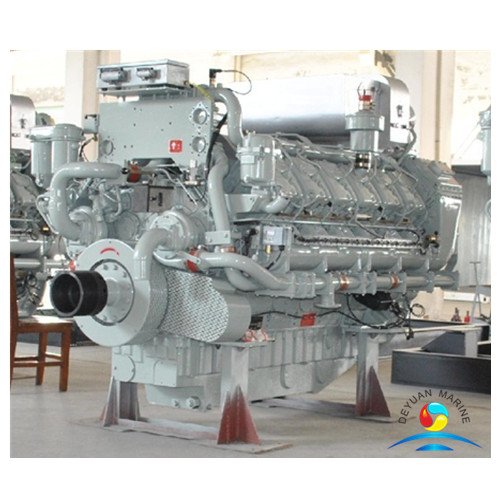 Introduction Of Different Type Of Marine Diesel Engine For Boat
Marine diesel engine is a type of diesel engine used on ships. Marine diesel engines are the main power of civilian ships, small and medium-sized ships and conventional submarines. Marine diesel engine can be divided into main engine and auxiliary engine according to its function in ship. The main engine is used as the propulsion power of the ship, which is used to drive the generator, air compressor or water pump. The main engine is used as propulsion power of ships, auxiliary engines are used to drive generators, air compressors or water pumps.
The marine main engine works most of the time in full load, sometimes operating under variable load conditions. Ships often navigate in turbulence, so the marine diesel engine should be able to work reliably under the conditions of 15 to 25 degrees and 15 to 35 degrees.
Most ships use turbocharged diesel engines, and small power non turbocharged diesel engines are used only in small boats. Most low speed diesel engines are two-stroke engines, medium-speed diesel engines are mostly four-stroke engines, and high-speed diesel engines are both.Heavy oil is widely used as fuel for high power medium and low speed diesel engines, and light diesel is still used in high speed diesel engines.
According to the speed of the diesel engine or the average speed of the piston, the diesel engine can be divided into high, middle and low speed.
High speed machine: speed n> 1000r/min, piston average speed c> 9m/s;
Medium speed machine: speed n = 300 ~ 1000r/min, piston average speed c=6 ~ 9m/s;
Low speed: speed n< 300r/min, piston average speed c< 6m/s.
The famous brand of diesel engine:
1. World Brand:
United States: CAT Caterpillar, Cuminns Cummins, DEERE
Britain: British Perkins (also known as Rolls-Royce)
Germany: MTU Mercedes-Benz, DEUTZ
Korea: Hyundai, DAEWOO
Sweden: Volvo company
Italy: Iveco
Japan Engine: Mitsubishi
2. Joint venture engine brand introduction:
Chongqing Cuminns, Dongfeng Cummins, Tianjin PERKINS (Rolls-Royce), Weifang DEUTZ , Hangzhou Steyr.
For more details, please feel free to contact us.