Do you know OMD-2005?
Views:36 Author:Crystal Publish Time: 2019-09-27 Origin:Site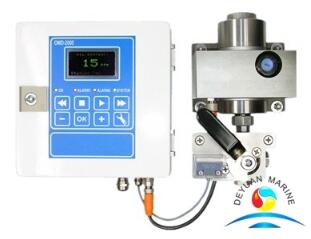 OMD-2005 15ppm Bilge Alarm according to IMO Resolution MEPC.107 (49).

All monitors in our range are inspected and tested to the related I.M.O. requirements at
ou
r factories prior to delivery.
In normal use this
15ppm bilge alarm
should operate correctly and without fault over a long period of
time requiring only small amounts of
maintenance to be carried out as outlined in the
instruction manuals.
| | |
| --- | --- |
| Range (measurement & indication) | 0 - 30 ppm, Trend up to 50ppm |
| Range (IMO specification) | 0 - 15 ppm (according IMO regulations) |
| Accuracy | better than IMO MEPC.107(49) |
| Electrical power supply | 24V - 240V, AC or DC, automatic voltage adjustment |
| Electrical power consumption | < 15 VA |
| Sample | Oily water from separator outlet, 0,1 - 4 l/min |
| Sample temperature range | +1°C to +65°C |
| Sample connections | R 1/4" Female |
| Alarm 1 & 2 Set Points | 1 - 15ppm (independently adjustable) |
| Alarm 1 operating delay for annunciation | 1 - 540 sec |
| Alarm 2 operating delay for control | 1 - 10 sec |
| Alarm contacts | 2 independently adjustable switchover contacts |
| Alarm contact operation mode | De-energized in Alarm State |
| Alarm contact ratings | 3A, 240V each |
| Alarm output | 0 - 20 mA or 4 - 20 mA, for 0-30ppm reversible, ext. Load<150Ω |
| Display | Green Graphic Display |
| Ambient temperature | +1°C to +55°C |
| Class of protection | IP 65 |
| Dimensions | 360 x 240 x 100 mm (WxHxD) |
| Weight | 7,3 kgs |