How to maintain and check the common troubles of marine hydraulic steering gear
Views:157 Author:Site Editor Publish Time: 2017-11-21 Origin:Site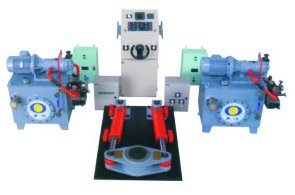 How to maintain and check the common troubles of marine hydraulic steering gear
When the steering gear is running for a long time, there will meet some problems. The following are few ways that we recommend for you to maintain the steering gear, judge the common troubles and methods for elimination.
Maintenance of steering gear
1)The steering gear uses No.46 anti-wear hydraulic oil. The same brand hydraulic oil should be used
2) Regular check of the oil quality is required. Clean filter, replace the oil if the oil quality is bad. Under normal circumstances, the new steering gear needs to clean return oil filter once a month. Hydraulic oil should be replaced after 10000- hour running. Afterwards, the Filter should be cleaned once every three months, the hydraulic oil should be changed once every 3000 hours
3)If the steering gear has malfunction, should be checked and repaired by professional technicians.
Common troubles and methods for elimination
Troubles phenomenon

Trouble cause

Methods of elimination

Ⅰ.Oil pump fails to discharge oil

1. Motor did not start

2. Motor reversal

3. Oil suction pipe is blocked or air entered

4. Oil is at low level

1. Check motor starting system, remove power system fault

2. Exchange two lines

3. Check the oil absorbing pipe of the pump

4. Refueling oil as required, check the low liquid level alarm system as well.

Ⅱ. Steering rudder angle indicator does not work when steering

1. Rudder turns, the pointer does not move.

2. Pointer does not move, nor the rudder

(1)oil pump fail to discharge oil

(2)Not enough oil pressure in the pump.

(3)Serious oil spill

(4)Under voltage.

(5)Solenoid valve does not move

(6)The Pressure regulating valve serious oil spill

(7)Serious steering cylinder leakage

1. check rudder transmitter power source and other system components, regulating circuit and eliminating failure with the indicator light

Method is same as "Ⅰ"

① Check oil leaking , replace seals

② Check supply power voltage and oil pump

③ Clean or replace the valve coil, if necessary, replace valve

④ Adjust the spring regulation function, check the valve

⑤Dismantle and check the cylinder

Ⅲ. Steering speed slows down

1. System has leakage or takes in air from outside.

2. Not enough oil supply or back pressure is high

3. Resistance in the rudder is too large

4. Pump variable adjusting screw loosed

1. Check to know if the oil level is too low,.

2. Check to know if the pressure in the pipeline is too large.

3. Check the rudder to detect failure

4. Re-adjust pump discharge

Ⅳ. High oil temperature

1. Overload

2. Oil level is too low

3. Cut-off valve is not open enough

1. Check rudder

2. Add oil

3. Correct

Ⅴ.High noise

1. Oil level is too low or the system with air.。

2. Oil Pump Motor Unit got loose or components damaged.

3. Tube code for fixing the Pipe got loose

4. Poor oil quality

1. Check

2. Inspect and Repair

3. Check and reinforce

4. Change Oil
Deyuan marine can offer you a wide range of steering gear with differnt marine certifiacte.
Please feel free to contact with us for more details.