Introduction of TZ5 SUEZ CANAL LIGHT
Views:108 Author:Nora Publish Time: 2020-06-18 Origin:Site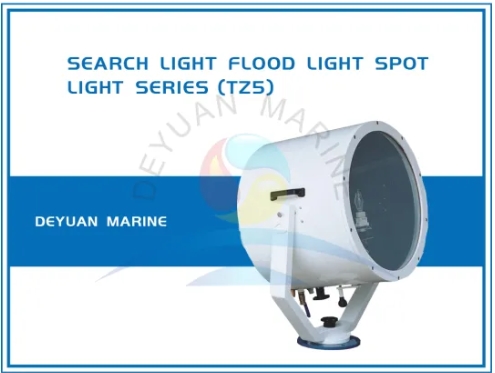 Introduction of TZ5 SUEZ CANAL LIGHT
Introduction:
The searchlight is used to illuminate both sides of the bank through narrow waterways, inland rivers and canals at the same time, and it can also be used for long-distance light signal communication. This searchlight is called a signal searchlight.
TZ5 Suez Canal searchlight is a special searchlight required for ships sailing on the Suez Canal in accordance with the Suez Canal navigation rules.
Products characteristic:
1. The lamp body adopts good quality aluminium alloy, the weight is light,good quality toughened glass lampshade.
2. Design with two bulbs structure, has rotary switch inside, can change between the bulbs under the electricity.
3. Two hemisphere reflector, can adjust the reflect effect between the+50 horizontally on.
4. Equipped safe vent-valve under the lamp canister, can ensure the air pressure balance in and out the lamp canister.
5. The lamp can bend for±30°, adjust±180° horizontally.
6. Parallel light-beam, far illumination distance.
7. Conform to( GRADE ENTRY NORMS FOR STEEL SHIPS) and the request of《 SUEZ CANAL NAVIGATION RULES》.

If you are interested in this products,pls feel free to contact me.