Deyuan Marine Company Activity
Views:79 Author:Site Editor Publish Time: 2016-04-22 Origin:Site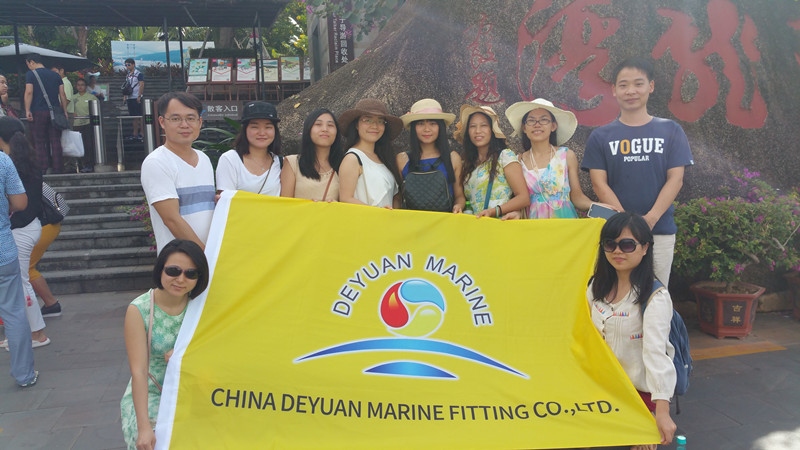 Our sales team take a trip to Sanya,one of the four prefecture-level cities of hainan province,in southeast China.Sanya is a popular tourist destination,
main sights are following:
*
The Guan Yin of the South Sea of Sanya
, a 108 metres (354 ft) Buddhist statue, completed in May 2005 and one of the tallest statues in the world[12] and the adjoining Nanshan Temple.
*
Yalong Bay
, a 7.5 kilometres (4.7 mi) major tourist beach located east of Sanya City.
*
Tianya Haijiao
(The ends of the earth and the corners of the sea)
*Deer Turning Head Park
(Luhuitou Park - A park containing a large stone statue above Sanya harbour telling the story of a hunter pursuing a deer to an isolated headland near the sea. When the deer could not escape, it turned to look at the hunter and became a beautiful woman. The hunter could not kill the deer and instead fell in love with her. People leave a padlock on a chain at the top of the mountain in the hope that their love will last as long as the lock remains.
*Dadonghai, Sanya,
Haitang, and Yazhou, Xiangshuiwan Bay are the five major bays in Sanya, Xiangshuiwan Bay remains the most beautiful and natural near the famous Nuilin Mountain.[13]
*Butterfly Valley
; pinyin: Húdié Gǔ) and a shell aquarium