Latest Delivery of Marine Mooring Equipments
Views:52 Author:Site Editor Publish Time: 2020-04-17 Origin:Site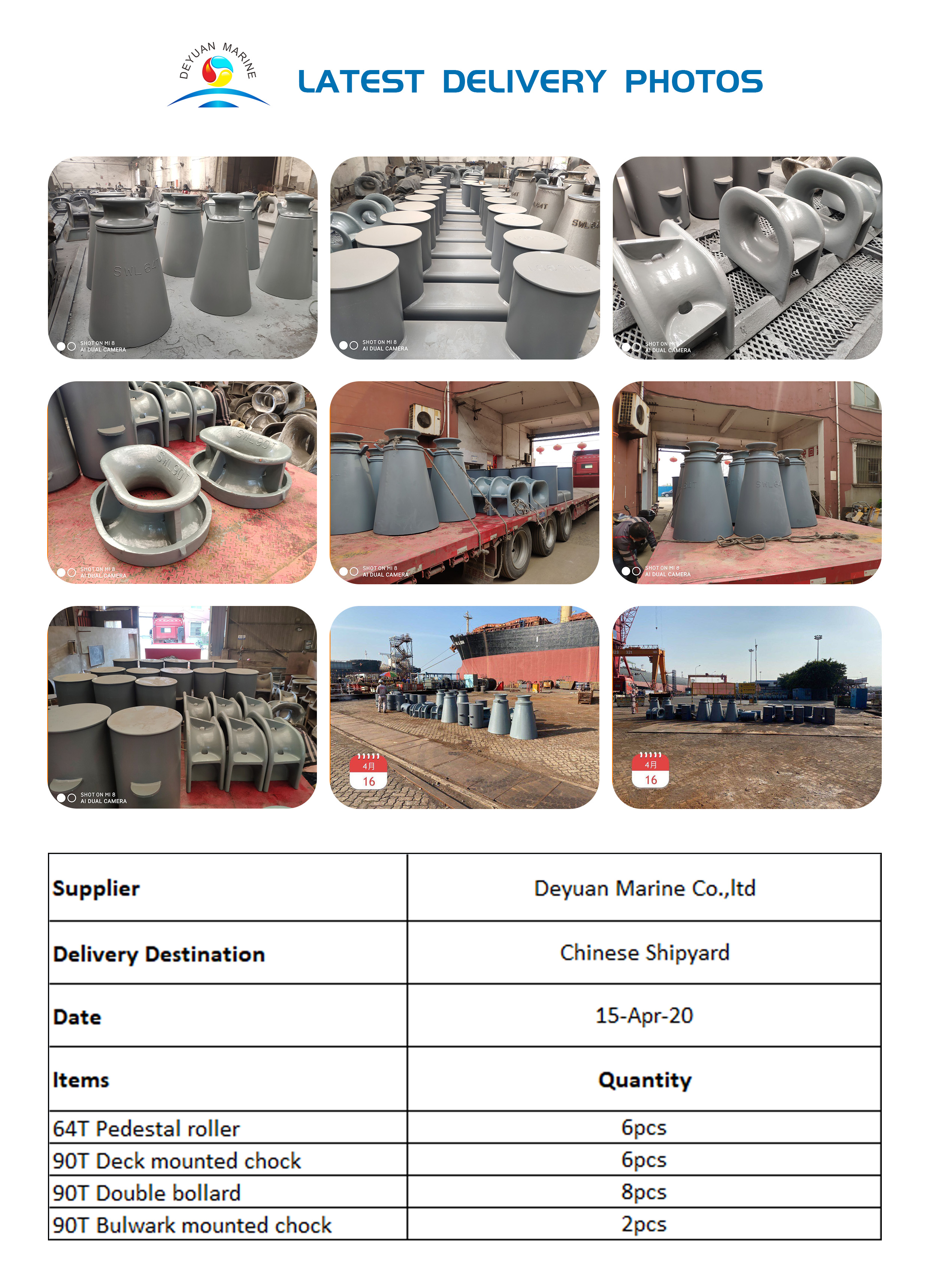 Latest Delivery of Marine Mooring Equipments
Deyuan Marine finished new order and delivery of marine mooring equipments in this week. Total 22pcs been fished and arranged shipping to Chinese Shipyard.
Panama chock is a guide for a mooring line, or steel towing wire which enables the line to pass through a ship bulwark or other barrier. AC type panama chocks have been designed according to JIS F2017-82 and approved by various classification societies, they are complied with Panama Canal Regulations.
Pedestal Fairlead is a type of ship's mooring fitting installed on board to lead and change the direction of mooring ropes, which is same as DIN81907 pedestal fairlead. The actual SWL of the ISO13776 pedestal fairlead on board shall be determined by considering the under deck reinforcement. The actual SWL of the ISO13776 pedestal fairlead shall not be over the SWL indicated in this International Standard.
The marine mooring bollard is a post used on ship's deck or quay. It is a simple and cost-effective way to fulfill mooring requirements and safely secure vessels alongside jetties, berths, wharves and dolphins in ports and harbors. It is welded by qualified steel tubes with plates. Different types and sizes of the bollards are for sale at YSmarines with best price, which including the single cruciform bollard, double cruciform one, NS2584 type one, DIN 82607 one, ISO13795 one, ISO13797 cruciform one, JIS F-2001 one, GOST11265-73 double cruciform one, dock bollard and other customized type bollard according to the requirement of clients.